From Jaipur to Guwahati and Kolkata, the JIFF Torch campaign now reaches CHENNAI
The largest film promotion of the Indian panorama "TORCH CAMPAIGN" is organized in Chennai Famous Tamil composer, singer, actor and director Gangai Amaran graced the event as the chief guest. It's a historic moment for TAMIL and INDIAN CINEMA – the fourth phase of Gangai Amaran will be organized on December 1 in MUMBAI
Chennai, November 26, 2022: From January 6 to 10, the 15th Jaipur International Film Festival `JIFF' will showcase 12 feature films in various Indian languages ​​INDIAN PANORAMA. This will be the first time in the history of Indian cinema that 12 films in different Indian languages ​​will be screened on such a grand scale. These films are being promoted in India through a campaign called `TORCH CAMPAIGN`.
The third phase of the `Torch Campaign' is organized at Prasad Preview Theater Labs, Chennai, where famous Tamil music composer, singer, actor and director Gangai Amaran graced the important event as the chief guest.
It's a historic moment for TAMIL and INDIAN CINEMA – Gangai Amaran As the chief guest at the "Torch Campaign" event of the Jaipur International Film Festival, Gangai Amaran asserted that this is undoubtedly a historic moment for Indian and Tamil cinema. For the first time, the film festival began to deal with the construction of a new image of regional cinema and its promotion in the world, he added. "There is talk everywhere, but real work is rare. Hanu Roj and Jaipur International Film Festival deserve words of praise for this great attempt as it will unite North and South. Indian cinema has started walking on a new path and now I am aware of the real importance of film festivals," Amaran believes. During the opening ceremony, Jaipur International Film Festival founder director Hanu Roj announced that a co-production meeting during the film festival will be organized on January 8. Hanu Roj will moderate the meeting himself for the first time. After inviting all the producers and directors of the southern film industry, Hanu asserted that this time a co-production of an INR 100 crore film will be discussed.Many southern filmmakers will come to the festival for this event as they have shown interest in Rajasthani language filmmaking.
Trailers of films in various Indian languages ​​are shown During the "Torch Campaign" in Chennai, film enthusiasts are shown the trailers of these films and familiarize them with these films.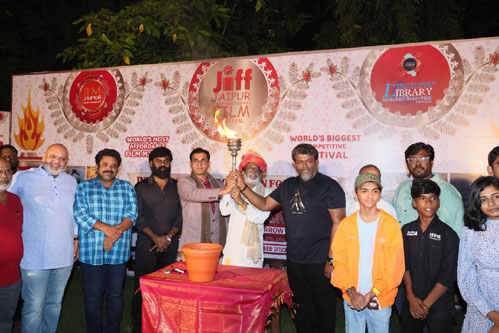 These 12 different Indian feature films are being promoted. The selected films include the Assamese film Bokul Phulor Dore directed by Sanjeev Hazarika and produced by Riniki Bhuyan Sarma and the Tamil film Maamanithan [The Great Man] Seenu Ramasamy's Malayalam film The One and The Many within Chidambare Palaniappan L, Bengali film #Homecoming by Soumyajit Majumdar, Tamil film Visithiran M.
Padmakumar, Tamil film Gargi by Gautham Ramachandran, Marathi film Taath Kana by Girish Mohite, Tamil, Telugu film Shadow of the Night by Radhakrishnan Parthiban, Malayalam film Nest of Sorrows by Joshy Mathew, Tamil film Mugizh by Kartick Swaminathan, Malayalam film Avanovilon by Sherry and Deepesh T and Bengali film Jhilli directed by Ishaan Ghose. All these films would be shown during
festival, from January 6 to 10, 2023. All the producers and directors associated with these films were present at the special event.
Actress Rituparna Sengupta, actor Saswata Chatterjee and director producer Goutam Ghose attended the important event in Kolkata. Earlier, the second phase of "Torch Campaign" event was organized at Hotel Hindustan International, Kolkata. Famous actress Rituparna Sengupta, Kahaani fame Saswata Chatterjee and famous director Gautam Ghose graced the event as chief guests.
There should be a category for the best foreign film at the Hanu Roj National Film Awards
The founder of the festival, Hanu Roj, said at the program that more efforts are needed to raise Indian cinema to the world level. For this purpose, the "Best Foreign Film" category should be added for foreign films at the National Film Awards. This would definitely help Indian cinema to go global and the Indian Ministry of Information and Broadcasting should pay special attention to this.
Torch Campaign launched from Guwahati on November 15 Earlier, Torch Campaign was launched from Guwahati on November 15. The grand opening was organized at the Vivanta Taj Hotel in a grand manner. Renowned filmmaker and entrepreneur Riniki Bhuyan Sarma (married to Himanta Biswa Sarma, Chief Minister of Assam) and Partha Sarathi Mahanta, Guwahati's Joint Commissioner of Police, were the chief guests at the opening ceremony. Mahanta is a documentary filmmaker himself.
Establishment of the JIFF Indian Cinema Fund "With the motto of promotion and global dialogue of Indian cinema, JIFF will establish an Indian Cinema Fund, where well-known personalities from the film industry will be added and involved", the festival's founder director
affirms Hanu Roj. Riniki Bhuyan Sarma agreed with this aspect and stated that she will also be on the board. The founder of the festival, Hanu Roj, said that more than a thousand filmmakers, actors, actresses and film professionals will participate in the campaign. The campaign continues in these cities
After the launch in Guwahati on November 15 and the second phase in Kolkata [18th November]the third phase will be organized in Chennai [26th November]Mumbai [1st December]Chandigarh [16th December]Rohtak [17th December]and Jodhpur [26th December]. At the event in Jodhpur, the torch will be handed over to filmmakers from Delhi, who will bring it to Jaipur on January 5.
Award winning films to be screened in 4 cities of 4 states "After the screenings of 12 films during the Jaipur Film Festival, the award winning films will be screened in 4 cities Srinagar, Trivandrum, Hyderabad and Bangalore and the screening dates will be announced in February
2023," says festival founder Hanu Roj.
12 awards for 12 films "One film can receive more than one award and one film cannot win any award as each film must meet the parameters set by the jury," said festival spokesperson Rajendra Boda. Five filmmakers will choose awards for 12 films. The prestigious jury includes Jim Rygiel, who has won 3 Oscars [Oscars] and 3 BAFTA Awards for Best Visual Effects for the hugely popular THE LORD OF THE RINGS TRILOGY.
The jury includes Hollywood's Stephen Castor, who has worked in business with Jim Rygiel, three-time Academy Award winner for Best Visual Effects for THE LORD OF THE RINGS TRILOGY.
Marc Baschet is a great producer and cinematographer known for No Man`s Land [2001, Oscar-winning film]Before the rain [1994] and The Adopted Son [1998] he is also a member of the jury who participated in JIFF twice.
Two Indian filmmakers have given their nod to be on the jury, including renowned playwright Kamlesh Pandey, who has extensive writing experience spanning over 30 years in the advertising world, over 20 years in films and 14 years in the television world. It is interesting to know that Pandey won Filmfare Award for Tejaab, Star Screen Award for Saudagar and IIFA Award for Rang De Basanti.
Shaji N Karun is an Indian film director and cinematographer who would be the president of this jury. His debut film Piravi [1988] won the Camra d`Or Mention d`honneur award at the Cannes Film Festival in 1989.
To participate in the festival ~ Delegate registration is open on the JIFF website
http://jiffindia.org/